Album
Other photo links:
Pictures from AIFD's 50th anniversary, May 11 & 12, 2012.
Halloween Party 2012 pictures.
Great SAFDF 2013!!
AIFD Featured in City of Austin Video about Hancock.
February – April 2016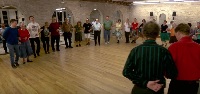 Many of you may recall when a person from the City of Austin's television channel, ATXN, came to AIFD dancing on

February 19 to do a story about Hancock. The video he produced is terrific and is now available on YouTube at https://youtu.be/dnSG7galgo4. The segment about AIFD starts at minute 8, or use this link (it's queued to the start of the segment). The video features great shots of AIFD in action as well as a touching and insightful interview with Franklin and Dena Houston. Enjoy.