Laman Hendricks
Laman Hendricks – Acrobatic Gymnast, Male and Female Azerbaijani and Georgian folk dancer, Turkish Bellydancer, Turkish Romani dancer, teacher, choreographer, Artistic Director and Founder of Dances of Caucasus.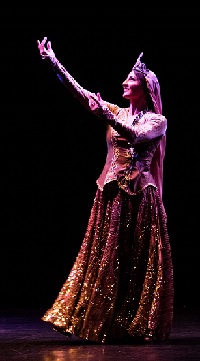 Laman Hendricks was born in Azerbaijan. She began classical ballet training at age three in her hometown. After a few years she was selected to be an acrobatic gymnast. Along with gymnastics and classical ballet, she studied the national dances of Azerbaijan, Georgia, Uzbekistan, Tajikistan, Russia, India, and more. She was trained in acrobatic gymnastics by International Judge and Head Coach of the Azerbaijani National Team, Irada Gurbanova, and in folk dance by Nominated Artist of Azerbaijan, Elchin Qedimov, and Zulfiyye Ibrahimova. In 2012 she moved to Anchorage, Alaska, where she founded Dances Of Caucasus. In 2015 she took third place in the Group Bellydance and in the Folk category as a soloist at the Rakkas Istanbul International Oriental Dance Festival. In August 2017 she was nominated by Bridge Builders International Organization and the First Lady of the state of Alaska in Recognition for Excellence in Community Service. She represents Azerbaijan in various dance festivals around the USA and the world. She does both male and female dances of the Caucasus region. Along with dance, she participates in local and international events where she represents the history and culture of Azerbaijan.
Laman also was a silver medalist in mountain climbing in 1996 and a bronze medalist in 1998 in cycling among Islamic countries. She was the only female in the National Cycling Team of Azerbaijan during the mid 90's. Laman recently moved to Austin. She loves the music, hospitality, and cultural diversity of the city of Austin.