Chuck Roth 6/1/12:
Here is a picture of Barbara and Vernon Strey (along with Lola Lucke) taken many years ago at Texas Camp.
---
Joy Diamond 5/18/12:
I will miss seeing her at AIFD, and going on trips with Barbara. We had great fun in Romania and Greece. I will miss her energy, her friendship and kindness.
---
Pat Potts 5/9/12:
When I started coming to Saturday night dancing many years ago, Barbara and Vernon were the first people I met. When I moved back to Austin a couple of years later, I had no car so they would very generously give me a ride to and from dancing. Barbara and I had a mutual love of dogs and that made up a lot of conversations between dances. She really loved my dog Scout and was so sad when she passed. I hope she is somewhere with her now and has reunited with beloved Vernon and her beloved dogs that have left his earth.
---
Genevieve Kent 5/9/12:
I am so sorry to hear of Barbara's passing. She was a pillar of AIFD since I began dancing, and it is difficult for me to fathom that she will no longer be here. She was extremely sweet and dedicated to folk dancing, and she has always inspired me by the way she continued to go on European dancing adventures in her old age. As someone who loves to travel and dance, she showed me that there is never an expiration date on following your interests and your dreams. She lead a wonderfully rich life, and I can only hope that I will have the good fortune to follow in her foot steps and still be learning & leading dances in my 70's. Thank you for showing how it's done, Barbara. Love, Genevieve
---
Ann Peticolas 5/8/12:I worked with Barbara at the VA where I started work in 1983, and she was an excellent person. I happened to see her recently at Health South (where I was visiting a friend) and we visited a bit. She took me to folk dancing once, but I am too subpar rhythm-and-otherwise to do it, but she WAS welcoming and helpful. She'd make it to VA retirement gatherings, taking the bus. I remember her with respect and affection. I enjoyed the photos someone posted, they look just like Barbara. I think it was her genuine and inveterate cheerfulness that made her such an appealing person.
---
Margaret Weston 5/7/12:I'm was so saddened to learn that Barbara was gone. I had been hoping she would be able to attend our 50th anniversary celebration. She and Vernon were such warm and welcoming members of AIFD. I learned hambo with Vernon and he was the only one I could dance it with. When he was gone Barbara would lead me in the hambo, just as well as Vernon. I always think of her when we dance Sardana. A sad passing, but many lovely memories.
---
Kevin McKenna, 5/6/12
Barb was a lot of fun!
---
Ann McCracken, 5/5/12
I don't have anything really to add, but I'm sure she will be missed. I always enjoyed talking to her at dancing. Barbara tried several times to teach me how to do the hambo. I never really got to where I could do it well, but I admired her patient efforts.
Ann
---
Eric Vormelker and Lisa Schneider, 5/5/12
Barbara, we're so sad you have left us. Your joie de vivre was constant, your all-encompassing hugs plentiful, reliable, and generous, your smile welcoming, your courage contagious, and your enthusiasm immense. I'm sure you're now enjoying your next adventure free of pain, dancing in the clouds with Vernon, spritely and nimble, carefree and joyous. Sorry we couldn't have played for you one last time, but we're sure you're still listening. Love,
--
Eric & Lisa
---
Martha (Boehm) Baltzer, 5/5/12
Thank you for solving the mystery of Barbara's silence for me. I met her in February of 1967 when we both worked for the V.A. DPC in the old C.A.R. unit (Coding Amis Reports). I have tried so often to contact her over the past year and feared something had gone amiss. Barbara's indominable spirit was always an inspiration to all of us who knew her and I consider myself fortunate to have her as a friend. Was the nature of her illness and death connected to her epilepsy or do you know? We shall miss her brightness and uniqueness. No doubt she dances on to heavenly music these days. Thank you, Barbara, for everything.
---
Kathleen Yoder, 5/4/12
Dear Barbara,
Whenever I think of you, my mind conjures the word "welcome." In all my memories, I see your unfailing smile and feel your unflagging love. You gave me dozens of incredible hugs through the years and with each one, you infused my spirit with pure joy. I am a better person for having known you. Ours is a better community for having had you in it. They were wonderful years. Thank you for everything. Thank you for you.
Adios,
Kathleen Yoder
---
Ron Houston, 5/4/12:
I am sorry for our loss, Bill.
Here are a couple of photos of Barbara.
There may be others scattered through the Archives,
but these were ready to hand.
I believe that she joined AIFD in 1956,
a year after I did.
(note: click on image for full size)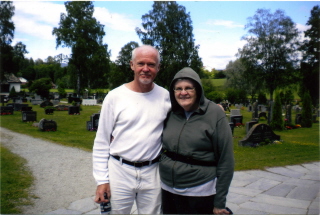 2009-06-01 Lee Otterholt & Barbara

2011-03-01 by Laurie Sherr
---
Chuck Cross, 5/4/12: I am very sad to read of Barbara's passing. For the most part I'm a contra dancer, but in 2003 or 2004 I was in Austin for a long weekend and decided to go to Hancock on a Saturday night to see what the international dance was like. Barbara immediately spotted me as a newcomer, took me under her wing, and helped me learn steps to some dances. Her encouragement made me feel completely welcome, and I will always remember her for that. My deepest condolences to her family.
---
Shelley Allison, 5/4/12: Reading of Barbara Strey's passing has saddened me, like watching a steady, long-burning candle finally waver and go out. A candle truly has gone out in the AIFD and greater folk dance community. Living up here north of Dallas, I never got to know Barbara as well as I would have liked. All the more remarkable that what I will remember about her is how warmly she greeted me every time I did make it to AIFD folk dance nights, and to Texas Camp. I wouldn't have blamed her if she'd forgotten who I was. Even after she could no longer do most of the dances, you could count on being greeted by Barb at Hancock as she watched the dancers from her regular "season seat" along the back wall.
The other thing about Barbara that always impressed me is the unflagging spirit and dedication to her folk dance community that had her, right up until I'd say the last couple of years, helping set up and take down the dance floor. Those plywood sections are not light, but she was right there, wearing her workgloves, pulling her weight and then some! Somehow I knew better than to suggest, "Barbara, why don't you leave this to the younger backs?" It would have been a slight. Besides, she really was helping, not just putting two fingers under the wood's edge to give us a psychological lift. What a trouper!
---
Franklin Houston, 5/2/12: I will really miss Barbara; she helped me learn the Hambo in 1960 and was always a good friend. For those who don't know much about her, here's a writeup she gave me a few years after her husband, Vernon, passed away:
"Vernon was born in Seguin. He was stationed in San Diego as a Navy radioman. That is where we met when I was sent there as a Navy Electronics Technician. I had aced the math part of the entry test for WAVES. The recruiter in Seattle got my "Scotch up" with his remarks --- "I don't expect you to do well on this part. The female mind just can't handle math and scientific things". When he saw the results, he said I had scored higher than ANYBODY ever had on that part of the exam. He's the one who told me to strike for Electronics Technician. I did, for 36 weeks at Great Lakes. My heart still goes pitty-pat when I see electronics equipment opened up. It must be like Irving and clock works.
We came to UT in '56 when son Danny was a couple months old – great planning! After our first year at UT, it was just too hard. Both of us were going full time on GI Bill (which pays for only 9 months of school) and we had a baby to boot. A neighbor in the apartment building where we rented worked at DPS. She said they were always looking for people who knew cw (Morse code) in the Communications department. Since Vernon knew code, teletype and voice radio from his work in the Navy, he was a shoo-in for the job. That is how Vernon started with DPS. Years later, the Data Processing section started and Vernon was a natural for that as well, coming up with four-character mnemonics for the new station call names, doing out-of-town teaching, etc.
In '56, I had also started dancing with a Scottish country dance group on campus run by Bob and Mary Helen Bunten. Selwyn and Bobbi also danced with that group and encouraged me to come dancing at AIFD, which I did in '58. Our sons had to be my partners, starting as early as 8. Bobbi always said Danny at 10 was a better dancer and partner than most of the men. Joe had a great memory for dances and music and could tell me which records to buy at camp. Kurt was the last to serve and did so until he was about 16.
Vernon was not much of a dancer and felt intimidated by all the PhDs and Masters degree holders in the group. (Check with Chuch Roth on the dates on this next part.) Chuck and Kaye Roth started a group for couples. People were mainly from their church. They brought Vernon and I in to help the newcomers. By comparison, Vernon looked like Fred Astaire and it got his confidence up. There, he met like-minded (crazy) people like Hugh Campbell. It just went from there.
Vernon developed special expertise on Scandi dancing, much to my delight. He also was a budding folk dance instructor. On one vacation, hitting folk dance groups on their nights between Texas, Washington, Idaho and back to Texas, he showed his stuff. We "demoed" several dances at each place. In Logan, Utah, Vernon even "called" Levi Jackson Rag and kept it moving, while I danced with the college kids there and directed traffic from within.
We used to meet friends at the S.P.J.S.T. hall in Manor (?) and danced to live music, polkas, waltzes etc. On some waltzes and schottisches, Vernon loved to have us do a Scandi version - and wow everybody."
---