This Friday at dancing:
Holly DJs, Dee assists.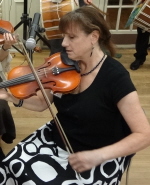 Join us for a lively evening of dancing with DJ Holly Plotner. Holly will be assisted by Dee McCandless.
Teaching: Are you tired of the same old pajdushko? Does a lovely vintage Israeli tango interest you? Then you won't want to miss
this week's teaching! In the spirit of "everything old is new again," Franklin Houston will reintroduce two Bulgarian Paydushkos popular in Austin in the 1970s – Yambolsko Paydushko Horo and Kilimarsko Horo. Anne Alexander and Franklin will then teach Dodi Li, a beguiling Israeli couple dance choreographed in 1949.

Friday, May 25, 7-9:45 pm.
Admission fee is $5 for those 25 and older.
There is no fee for those under 18,
but they must be supervised by a designated person 18 or older.
Hancock Recreation Center (HRC)