This Friday at dancing:
May Birthdays, Anniversaries, and ELECTIONS!!!
Holly DJs, Denise assists.
Join us for a lively evening of dancing DJ'd by Holly Plotner. Holly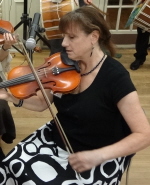 will be assisted by Denise Fynmore. During the evening we will conduct the elections for the 2018-19 AIFD Board of Directors. We will also celebrate May Birthdays and Anniversaries with song, dance, and cake!!!
Teaching: We'll do walkthroughs on request.
For more information and other neat stuff, including an announcement of AIFD Board Elections on May 11, check out this week's newsletter.

Friday, May 11, 7-9:45 pm.
Admission fee is $5 for those 18 and older.
There is no fee for those under 18,
but they must be supervised by a designated person 18 or older.
Hancock Recreation Center (HRC)