This Friday at dancing:
Easter Bunny Hop!!!
Mike DJs, Jasmine assists.

"Let's go to the Hop!" On March 30, we are having an Easter Bunny Hop – Come for all your favorite folk dances and, of course, a Bunny Hop! We will have plenty of chocolate snacks, AND we are negotiating with the Easter Bunny to make an appearance! Our DJ for this festive evening will be Mike Revesz. Mike will be assisted by Jasmine Guha-Castle.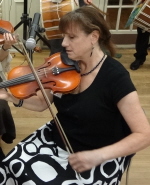 Teaching: Holly Plotner will teach dances presented at the recent San Antonio Folk Dance Festival.

Friday, March 30, 7-9:45 pm.
Admission fee is $5 for those 18 and older.
There is no fee for those under 18,
but they must be supervised by a designated person 18 or older.
Hancock Recreation Center (HRC)