Feb 23: Graduation Party!!!
Come celebrate the last class of our 6 week Couples Dance 101 Series with Live Music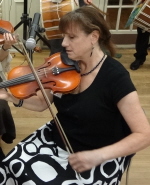 by Don Weeda and Grammy Award Winner Paul Morrissett. They will play music for the dances that were taught in the class, as well as our usual International and Scandi favorites! Our DJ for this delightful evening will be Holly Plotner. Holly will be assisted by Janie Hopkins.
Learn more about this week's musicians:
Teaching: Michel Breger and Stephanie Anderson will teach the Texas


Two-Step and the Waltz left turn, with special tips on how to make the turns comfortable and enjoyable. There will also be a review of the buzz-step turn and Schottische.

Friday, February 23, 7-9:45 pm
Couples 101 class is free.
Afterwards, the admission fee is $5 for those 18 and older.
There is no fee for those under 18,
but they must be supervised by a designated person 18 or older.
Hancock Recreation Center (HRC)