This Friday at dancing:
Back To School Nite!!!!
Mike DJ's, Lila assists.

Cap off the summer and celebrate the start of another school year at AIFD! Enjoy light refreshments and fun, easy dances for the whole family. Our DJ for this fun evening will be Mike Revesz. Mike will be assisted by Lila Luce.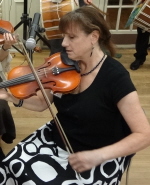 Teaching: What I did on my summer vacation: Holly Plotner will continue teaching dances from Greece, Albania and Bulgaria learned on her annual trek to Balkan Camp. The featured teaching will be Čičovato Horo, a lively club dance from Bulgaria.

Friday, August 25, 7-9:45 pm
The admission fee is $5 for those 18 and older.
There is no fee for those under 18,
but they must be supervised by a designated person 18 or older.
Hancock Recreation Center (HRC)