This Friday at dancing:
Liberté! Égalité! Fraternité!
Holly DJ's, Janie assists.
Celebrate Bastille Day with your AIFD brothers and sisters. DJ Holly Plotner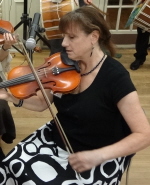 and assistant Janie Hopkins will liberate your dancing soul with line and couple dances from France (and other equally great places ). We'll also celebrate our fellow dancers who have a July birthday or anniversary with song, dance and the 'let them eat cake' portion of the program.

Teaching: Sharon Casteel will kick off the evening promptly at 7 with some fun teaching, including Žensko za raka.

Friday, July 14, 7-9:45 pm
The admission fee is $5 for those 18 and older.
There is no fee for those under 18,
but they must be supervised by a designated person 18 or older.
Hancock Recreation Center (HRC)