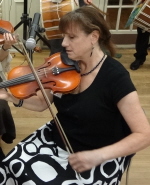 Join us for a lively evening of folk dancing DJ'd by Holly Plotner. Holly will do an SAFDF preview program, including dances from this year's featured teachers Ahmet Luleci and Miroslav Marcetic. Holly will be assisted by Lila Luce.
Teaching: Some of the dances we do have combinations of steps and pauses that are challenging to many dancers. Join Franklin Houston
at 7PM to unravel the mysteries of fancy footwork and pregnant pauses. The featured teaching will be Eleno Mome, an extremely popular dance in Bulgaria and among folk dancers in the United States. Later in the evening, Holly Plotner will do a short review of Bourrée Pastourelle, the French set dance that she taught earlier this month.
For more information and other neat stuff, check out this week's newsletter.

Friday, February 24th, 7-9:45 pm
The admission fee is $5 for those 18 and older.
There is no fee for those under 18,
but they must be supervised by a designated person 18 or older.
Hancock Recreation Center (HRC)