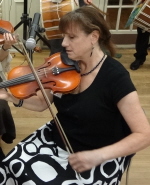 The 9's have it! The December 9 program will feature some of our favorite dances in 9. Holly Plotner will be our DJ for this lively evening of dancing. She will be assisted by Dee McCandless. Do you or a fellow dancer have a birthday or anniversary in December? Come to folk dancing to celebrate with song, dance, and cake!
Teaching: Rikki Nicolae will present some of the magical Turkish dances that Ahmet Luleci taught at this year's Texas Camp. Hop on your magic carpet and fly over to AIFD this Friday to learn these exciting dances. Teaching begins at 7 PM.

For more information and other neat stuff, check out this week's newsletter.

Friday, December 9th, 7-9:45 pm
The admission fee is $5 for those 18 and older.
There is no fee for those under 18,
but they must be supervised by a designated person 18 or older.
Hancock Recreation Center (HRC)