Enjoy a fun evening of dancing to live music by the talented Shirley Johnson. Shirley's repertoire includes a large number of our favorite tunes that will keep your feet moving. Our DJ will be Madeline Brock. Madeline will be assisted by Christian Cie.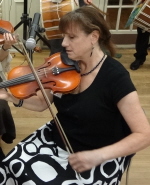 Teaching: Teaching: Holly Plotner will once again take us on a dancing journey through Greece. She will continue with tiz omal, island syrtos from Naxos and continue to other magical places in Greece. Later on she will review Issios. COME JOIN US!
For more information and other neat stuff, including election results, check out this week's newsletter.

Friday, June 24th, 7-9:45 pm
$5 at the door 17 and over (16 and under free).
Children must be accompanied by an adult.
Hancock Recreation Center (HRC)