Do you have an October birthday or anniversary? Do you know a fellow folk dancer who does? Come to folk dancing to be serenaded and enjoy some delicious cake! This lively event will be DJ'd by Iola Hallock. Iola will be assisted by Jasmine Guha-Castle.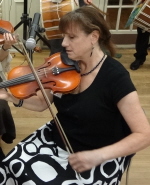 Teaching: Holly Plotner will present Ciganskoto Djipaj. Introduced by Steve Kotansky, this a fun, easy line dance popular in Bulgarian folk dance clubs. It is done to an awesome, lively composition by Serbian musicians, which you can check out on youtube.
For more information and other neat stuff, check out this week's newsletter.

Friday, October 9th
7:30-10:45 pm
$5 at the door 17 and over (16 and under free).
Children must be accompanied by an adult.
Hancock Recreation Center (HRC)