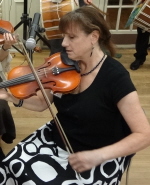 Enjoy a fun night of folk dancing with DJ Holly Plotner. Holly will be assisted by RosieLee Salinas. Holly welcomes Women Singing** for a short live set starting at 8:30.
**Women Singing was formed in March 2014 and sings a variety of harmony-based music from around the world. Members are Joane Rylander, Anne Alexander, Dee McCandless, Kathleen McDonagh, Yoshimi Masuo, and Holly Plotner. Dena and Franklin Houston will be accompanying.
Teaching:
Franklin Houston will start the evening with the next class of our spring 2015 newcomers' semester. The semester presents dance fundamentals and etiquette, introduced through some of our favorite folk dances and is a great way for newcomers to learn what is so fun about dancing in general and folk dancing in particular.
For more information and other neat stuff, check out this week's newsletter.

Saturday, January 31st
7:30-10:45 pm
$5 at the door 17 and over (16 and under free).
Children must be accompanied by an adult.
Hancock Recreation Center (HRC)